Choose skin: The Hunted Bloodrain Battlescar Predvision AlienHost Comicbook



Go back to the Movies index




There's been much speculation of a possible release of a third Predator installment. Properly separated from the Aliens Vs Predator franchise, there could be new life breathed into our favourite hunter. Can we still live in hope of a decent Predator-only movie?

Overview (possible movie details)
News (interviews, information, rumours etc.)
Predators (Predator 3)

To be released
July 2010

It would seem that most Predator fans (myself included) hold the original movie in higher esteem than any other form of Predator story. This could be due to the 'feel' of the movie - the way the commandos interact with each other so realistically, and the way that each character is crafted that makes us actually care about them. (This is in direct contrast to Predator 2, where there wasn't anywhere near as much time spent 'getting to know' each character.)

Given a decent character-driven story, who could've featured in the cast? Well, we die-hard fans would have loved to see ol' Arnie reprise his role of Dutch, although his participation in further films are unlikely while he's still 'The Governator' of California. Another logical choice would have been be Danny Glover due to his association with Predator 2, but it's doubtful he'd return to a heavy action role these days either. (Stop press: Adrien Brody has been cast in the lead role. Quite a departure from any other anticipated muscle-bound actor!)

Script-wise, there has been speculation ever since the release of Predator 2. I myself hoped to see the original Dark Horse Comic story Predator (Concrete Jungle) made into a feature length movie. This story involved Dutch's brother investigating Dutch's final mission and his disappearance, and used both jungle and city settings so would tie in nicely with both Predator and Predator 2. In truth, Alex Litvak and Michael Finch have been confirmed as scriptwriters. Their story tells of a group of humans finding themselves stranded, and stalked, on a Predator planet.

As for producer/director, John McTiernan (director of the original Predator, also reponsible for the Die Hard series) was an early possibility -- but Robert Rodriguez (who coincidentally wrote a 'Predator 3' script earlier this decade) has been announced as producer, with Nimrod Antal in the director's chair.

More info will follow, and no doubt there will be details changing all the time, so at this stage anything is possible. But with any luck, Predators will finally be the deserved movie that us fans have been waiting for -- for almost twenty years!
--------------------
Credits
Directed by: Nimrod Antal
Produced by: John Davis, Lawrence Gordon
Writing credits: Alex Litvak, Robert Rodriguez
Produced by: Robert Rodriguez
--------------------
News/Interviews/Rumors
Chronologically sorted, with newer items at bottom of page)
SEVERAL SCRIPTS FOR PREDATOR 3 MAKING THE ROUNDS
July 10, 2003 - With Aliens vs. Predator already in pre-production and James Cameron mulling over Alien 5, fans are curious to know what's happening with the other side of the equation, the Predator series.
According to Australia's Moviehole and Britain's The Z Review, there are currently three scripts for Predator 3 circulating in Hollywood.
One, entitled Predator 3: The Deadlier of the Species was written by writer Sam Park some years back. Park recently told Moviehole that interest in the script was being revived with the upcoming Aliens vs. Predator project. Deadlier of the Species brings Arnold Schwarzeneggar's character "Dutch" from the first Predator. Set in New York City during a blizzard, it involves a Predator who has come to find and kill the ex-commando.
Meanwhile, screenwriter Robert Rodriguez (From Dusk Til Dawn, Spy Kids, Once Upon a Time in Mexico) has his own script for Predator 3 making the rounds in the nation's movie capital. Rodriguez's script takes the franchise back in time to a 17th century ship. The Predator is stalking its prey among the crew, who must fight back using only their inferior weapons and bravery.
A third script that also seems to be in contention, according to The Z Review, is one called The Zoo. This one unites both Dutch and Danny Glover's policeman character from the Predator sequel as two living trophies who are captured and brought back to the Predator homeworld.
It seems unlikely that any of these screenplays will be picked up until Aliens vs. Predator comes out, and Hollywood is able to gauge interest in the property. We'll keep and eye on things for you!
Source: filmforce.ign.com
--------------------
SCORPION KING VS. PREDATOR - Could The Rock fill Arnold's shoes in Predator 3?
September 2, 2003 - With an interesting script for Predator 3 circulating in Hollywood, the question has come up: who will play Schwarzenegger's character "Dutch" if the Austrian Oak becomes the governor of California?
Another fit, muscle-bound celebrity is needed, and one name that has been suggested is The Rock (pictured), the wrestler-cum-actor who hit it big with The Mummy Returns and The Scorpion King. Moviehole reports that according to Sam Park, The Rock is a leading contender for the role. Park, by the way, is the writer of Predator 3: The Deadlier of the Species, the script that seems like the best contender for a second Predator sequel.
For his part, Park hopes to pitch his treatment to Fox soon. "I think [The Rock playing Dutch] is an excellent idea and could insure the franchise continuing on for many years - [fellow writer] Clay McBride and I have definite ideas for sequels with some bizarre twists for the Dutch character and the Predators that we believe will keep the franchise stories fresh and exciting for decades," Park told Moviehole. "Mind you I and Clay do not have any involvement with Fox in any way at this point. It's their franchise and characters to do with as they please. Hopefully we'll get a crack at presenting the Predator 3 story treatment to them soon."
Source: filmforce.ign.com
--------------------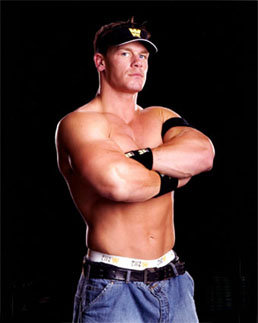 WHAT'S THIS? THEY'RE REMAKING "PREDATOR"?
October 28, 2005 - I have to admit, this is the very first that I'm hearing on it, but according to the "Wrestling Observer Newsletter", WWE Superstar John Cena (pictured), coming up next in "The Marine" opposite "Nip/Tuck" star Kelly Carlson, is apparently up for the lead role in a remake of 1987's Arnold Schwazenegger starrer, "Predator".
A few months back, a scooper over at Latino Review touched on a remake, saying that John McTiernan has been offered the Directorial duties in an effort to lure him away from the "Thomas Crown Affair" sequel that he's been developing.
The "Observer" was one of the first to break the news about Cena's role in "The Marine", so I'm betting that there's a bit of "where there's smoke, there's fire" going on around this story. The WWE has pushed several of their Wrestlers for big screen projects as of late, with Cena, The Rock, "Stone Cold" Steve Austin & Kane all headlining new projects within the next few months.
Cena is in Australia at the moment for the "Survivor Series" tour, so hopefully we'll get some more info soon.
Writer Sam Park ["The Half-Way House"] had been hoping to lure Schwarzenegger back to play Dutch - one last time - in a "Predator 3", but seems FOX might have decided to go the remake route instead.
Source: www.moviehole.net
--------------------
ROBERT RODRIGUEZ PLANS PAIR OF PICS
April 23, 2009 - Robert Rodriguez is ready to cut a wide swathe, and his plans include re-launching the 'Predator' franchise for Fox. He is also co-directing 'Machete', the blade-wielding antihero who appeared in a mock trailer that was part of 'Grindhouse'.
For Fox, Rodriguez has scripted 'Predators', a film that will bring back the dreadlock-sporting alien hunter who originated in the 1987 Arnold Schwarzenegger hit 'Predator'. While a sequel didn't become a hit, Fox kept the alien sharp by launching the 'Alien Vs. Predator', a wildly profitable series that has racked up strong grosses and DVD sales, with little or no gross out the door.
While Rodriguez juggles these projects, he's also directing his script 'Nerveracker' for Dimension Films, with Bob Weinstein setting a 2010 release for the futuristic action thriller.
Source: www.variety.com
--------------------
NIMROD ANTAL CHASES DOWN 'PREDATORS'
July 2, 2009 - Nimrod Antal, the director of the horror film 'Vacancy', has been hired to direct 'Predators' for Fox and producer Robert Rodriguez.
Alex Litvak and Michael Finch have written the script, which the studio is hoping will revive the alien-hunter franchise in a solo outing for the first time since 1990. The dreadlocked menace, who first appeared in a Central American jungle stalking Arnold Schwarzenegger and friends in 1987, has had two solo features and a pair of matchups with the double-jawed badasses of the 'Alien' franchise.
Box office for the last combined feature, 'AVP: Requiem', dipped to just $121 million worldwide after the previous installment's $169 million. The studio and the filmmakers aim to return to the franchise's roots as a character-driven action movie.
In this version, a group of humans will find themselves stranded on a planet home to Predators and must survive the horrors they encounter. James Cameron pulled a similar move with his advancement of the 'Alien' franchise in his 'Aliens'.
The new iteration, which Rodriguez ('Planet Terror') has been hoping to make since 1994, when he was hired to write a screenplay for a second sequel, is scheduled for a July 7, 2010 release. According to an interview he did with Ain't It Cool News, Rodriguez will oversee production at his Troublemaker Studios in Texas to take advantage of the state's tax breaks and the opportunity for more creative control.
The CAA-repped Antal co-wrote and directed 'Kontroll' in 2003 and has the heist movie 'Armored' coming out through Screen Gems in December.
Source: www.hollywoodreporter.com
--------------------
ADRIEN BRODY TO STAR IN 'PREDATORS'
October, 2009 - Adrien Brody is boarding to star in Robert Rodriguez's Predators, Fox's reboot of the sci-fi franchise being directed by Nimrod Antal. Rodriguez is producing with Elizabeth Avellan. Written by Rodriguez, Alex Litvak and Michael Finch, the script follows a group of elite warrior-types who are being hunted by members of a race of merciless alien trackers called Predators.
Brody was last seen in Dario Argento's Giallo and next voices the character of Rickity in Wes Anderson's The Fantastic Mr. Fox. Topher Grace (next be seen in New Line's ensemble romantic comedy Valentine's Day) is in negotiations to join the action-adventure movie, to which Alice Braga (I Am Legend), Mahershalalhashbaz Ali (The 4400), Walt Goggins (The Shield), Rodriguez mainstay Danny Trejo and UFC fighter Oleg Taktarov have also been cast.
Brody is a man who ends up inheriting the mantle of leader and is known as a hunter of men. Grace would play an accountant-type whose unassuming facade masks a dangerous serial killer. Braga is the tough female killer. Ali is a man not afraid to die, Goggins is the loose canon of the group and Taktarov is a former Russian special ops agent. Trejo, already cast, is Cuchillo, a hardened warrior with twin uzis strapped to his back.
Shooting begins next month in Hawaii then moves to moves to Rodriguez's Troublemaker Studios in Austin. The movie is slated for a July 9, 2010 release.
Source: www.thr.com
--------------------
| | | |
| --- | --- | --- |
| | | Enjoy Predator: The Hunted? Want to see it keep expanding, with new info and downloads added more often? Then please consider a donation - no amount is too small. Your help will ensure the growth and survival of the site, and you'll enter the Donator Hall of Fame, forever known as a true Yautja follower. Thank you!! |
---
---
Last modified 20th February 2011. Best viewed at a screen resolution 1024x768 or higher.
Questions? Check out Joker's Homepage and you might find answers. Comments? Email me!

This site is unofficial and non-profit, intended for film commentary only.
"Predator" and "Alien" films © 20th Century Fox, comics © Dark Horse. No trademark or copyright infringement intended.